| | |
| --- | --- |
| Contents | |
| Announcements | Consumer Vaccine Campaign | PQA CPIQ Award | Flip the Pharmacy | ACT Collaborative |
| Grant Updates | Recently Awarded and Completed Grants | Grantee Updates |
| Social Snippets | Community Pharmacy COVID Vaccinations - Bronx, NY and Little Rock, AK |
| Deadlines & Events | CPIQ Award | CPF Applications & Meetings | APhA 2021 |

Announcements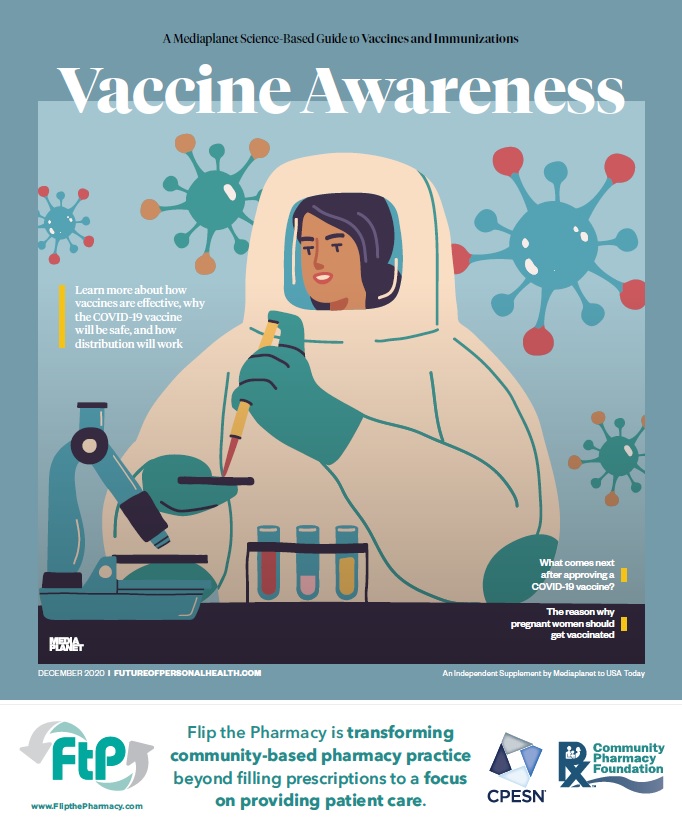 The first quarter CPF newsletter published in January 2020 started with traditional optimistic sentiments for the new decade of the 'twenty twenties'. Little did we know of the upcoming significant 'bump in the road' that would develop to pandemic proportions. Moving into 2021 with scientific and medical advances, we are hopeful for relief and return towards normalcy.

CPF contributed to a consumer piece by supporting an independent supplement by Mediaplanet to USA Today on December 22, 2020. The campaign is called 'Vaccine Awareness' and the lead article is 'Pharmacists, the Unsung Heroes of the Pandemic' by Doug Hoey, RPh, MBA, CEO National Community Pharmacists Association and Scott Knoer, MS, PharmD, Executive Vice President, American Pharmacists Association. Pharmacy teams are indeed essential healthcare providers of the COVID-19 vaccine! We know there is much more to come across the healthcare spectrum for health and wellness in 2021 and beyond.


Pharmacy Quality Alliance (PQA)
CPF and PQA are awarding the 4th Annual 'Community Pharmacy Innovation in Quality (CPIQ)' Awards to recognize a high performing and pioneering individual practitioner and an innovative community pharmacy practice that demonstrates improvements in quality of care, medication optimization and patient outcomes.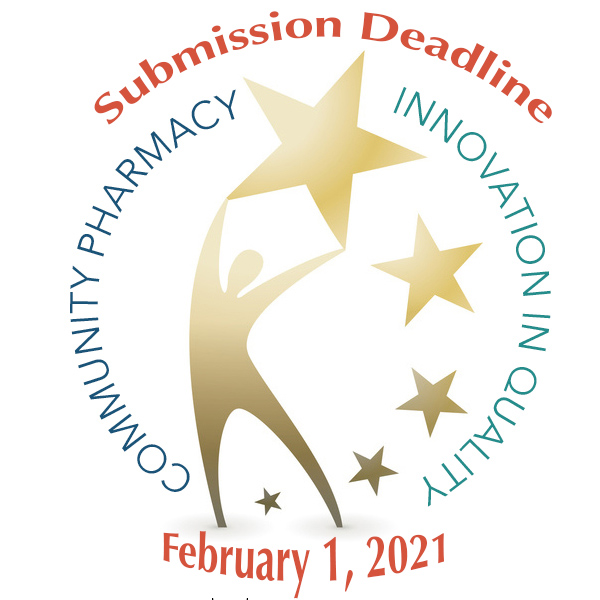 We are pleased to invite nominations for the 2021 CPIQ Awards. Individuals may nominate themselves, their organizations or others through the online nomination form now through Monday, February 1, 2021 via the nomination information and nomination form links.

Learn more about past CPIQ Award Recipients:
Individual Award
2020: Vikram Sundararaman, PharmD, MBA, Clinical Pharmacy Site Manager, Genoa Healthcare
2019: Lindsey Valenzuela, PharmD, Administrator of Population Health and Prescription Management, Desert Oasis Healthcare
2018: Kari Trapskin, PharmD, Vice President, Health Care Quality Initiatives, Pharmacy Society of Wisconsin

Pharmacy Award
2020: The Kroger Company
2019: Towncrest Pharmacy of Iowa
2018: Charitable Pharmacy of Central Ohio
The awards are supported by funding from the Community Pharmacy Foundation and presented at the PQA Annual Meeting.

Flip the Pharmacy (FtP)
Flip the Pharmacy is a multi-year community pharmacy practice transformation program where CPF partnered with CPESN® USA to serve as the Coordinating Center for implementation. Between Cohort 1 (Oct. 2019 - Sept. 2021) and Cohort 2 (Oct. 2020 - Sept. 2022) there are 34 unique teams and over 800 pharmacies participating nationwide. The established FtP program infrastructure has been VITAL to assist motivated pharmacies to adapt their practices to serve as COVID-19 immunizers for their communities. A special THANK YOU to Cody Clifton, PharmD, FtP Director of Implementation and Strategic Initiatives for the tireless efforts to update the FtP participants and guide content for the change packages.
FtP Media Coverage

ACT Pharmacy Collaborative
The Academia-CPESN Transformation (ACT) Pharmacy Collaborative is an operational learning and ACTing collaborative between 89 colleges/schools of pharmacy and clinically integrated networks of community-based pharmacies.

The 2020 Remote AACP/ACT Workshop this past November was a huge success!
Provided an opportunity for faculty members and community leaders nationwide to collectively mobilize academia's role in community pharmacy practice transformation.

Over 70 schools in attendance with over 150 attendees during the 2-day workshop

Over 60 CEO Deans and 110 Experiential Learning Directors during dedicated sessions

Impactful connections and collaboration for future initiatives
Quote from Troy Trygstad, Executive Director of CPESN USA
"I've never seen so much positive energy from faculty and administrators in my life. It's as if there were all of this pent-up energy around supporting next generation community pharmacy practice and everyone just needed to give themselves permission to say it and do it. Certainly, one of the key ingredients is the cross pollination of ideas, but also comradery and support among others across institutions. For many, the experience of being the sole or small group tagged as being the "community pharmacy person(s)" has heretofore been a lonely experience in academia. Add to that a real-world laboratory of services, data and emerging value based contracting markets [that are emerging in the market], … I am very [excited about] ACT's future and ability to bend community pharmacy practice toward sustainability"

Upcoming Strategies for 2021:
Curriculum Task Force

ACT Master Class

Research Initiatives with Flip the Pharmacy and CPESN Data

Experiential Learning Charge
The ACT Pharmacy Collaborative has been invited to work with the Pharmacy Times to share efforts of faculty and students in community pharmacy practice transformation. Key goal of MOBILIZATION for community pharmacy initiatives this year!
If your college or school is not part of the 89 members, please consider formally joining by submitting a Dean's Statement of Commitment.

Grantee Updates

Recently Awarded Grants

| Awarded | Applicant | Category | Title | Status |
| --- | --- | --- | --- | --- |
2020
View Details
William Doucette , PhD
University of Iowa

Medication Management, Safety & Quality

ACT Evaluating the Initial Year 1 Flip the Pharmacy and Establishing a Framework for Future Assessment


In Study
---
2020
View Details
Renae Chesnut , EdD, MBA, RPh
Drake University

Pharmacy Management & Ownership

CULTIVATE: Assisting Rural Community Pharmacies in Transforming their Practice through the Development of High-Quality Pharmacy Technicians and Future Pharmacists


In Study
---
2020
View Details
Rebecca Snead , BPharm, CAE, FAPhA
National Alliance of State Pharmacy Associations

Therapeutics, Diseases & Populations

Maternal Health Services Set Implementation Toolkit


In Study
---
View more recently awarded grants
Recently Completed Grants
| Completed | Applicant | Category | Title | Status |
| --- | --- | --- | --- | --- |
2020
View Details
Rebecca Snead , BPharm, CAE, FAPhA
NASPA and APhA
Profession, Academics & Economics
Location: Virginia

Grant Complete
---
View more recently completed grants

The following grantee manuscripts were recently published in peer-review journals. Congratulations!
Published Articles
Ongoing Impact
Renae Chesnut - Drake University, Iowa | Grant Details
Grant Title: Establishment of the DELTA Rx Institute Spirit of Change and Innovation
Ongoing Impact: Reflections - Ten Year Student Experience and Practice Improvement
Dave Dixon - VCU School of Pharmacy Center for Pharmacy Practice Innovation, Virginia | Grant Details
Grant Title: Implementation and Evaluation of a 24-hour Ambulatory Blood Pressure Monitoring Service
in a Community Pharmacy
Publication of Grant Data Subanalysis | American Journal of Hypertension (November 12, 2020)
Social Snippets

Upcoming Deadlines and Events
CPF/PQA CPIQ Award Deadline – February 1, 2021 – Information
CPF Grant Applications Deadline – February 3, 2021 at Midnight Pacific – Submission
CPF Board Meeting – February 17-18, 2021
APhA Annual Meeting 2021 – March 12-15, 2021 (Virtual) – Information
CPF Grant Applications Deadline – May 12, 2021 at Midnight Pacific – Submission
CPF Board Meeting – May 25-27, 2021