| | |
| --- | --- |
| Contents | |
| Announcements | PQA Activities | APhA Annual Meeting 2021 Recap | Partner Grants |
| Grant Updates | Recently Awarded and Completed Grants | Grantee Updates |
| Social Snippets | Montana PBM Legislative Bill | Pennsylvania Pharmacist COVID-19 Vaccine 'Superhero' |
| Deadlines & Events | CPF Applications & Meetings | PQA Annual | AACP 2021 |

Announcements

CPF admires the tireless pharmacy teams' commitment to serve their communities during the vaccine administration phase of the COVID-19 pandemic. Please continue to share your powerful stories. Thank you! Helpful resources: CPESN COVID-19 Best Practices | APhA COVID-19 | APhA and CDC Vaccine Confidence Project

Pharmacy Quality Alliance (PQA)
CPF acknowledges the planned departure of Laura Cranston, RPh and commends her service and commitment to the profession of pharmacy. We welcome the longstanding CPF collaborator and new PQA CEO, Micah Cost, PharmD, MS, who began on February 1st, 2021. We look forward to a continued partnership and new quality-based projects!

Upcoming Activities
Quality Forum Webinar Series - featuring CPF grantees presenting on the topic, 'Implementation of Sustainable Social Determinants of Health Programs in Community Pharmacies: Two Possible Models' | Registration
Annual Meeting Online 2021 - May 11-13th | Registration
The Community Pharmacy Innovation in Quality (CPIQ) award recognizes high performance for a pioneering individual practitioner and an innovative community pharmacy practice that results in improvements in quality of care, medication optimization and patient outcomes. The award is supported by funding from the Community Pharmacy Foundation. This years' winners will be announced at the May PQA Annual Meeting. Learn more about past CPIQ Award Recipients.

American Pharmacists Association (APhA) Annual Meeting 2021 - CPF Grantee Activity Recap

Posters - Flip the Pharmacy Teams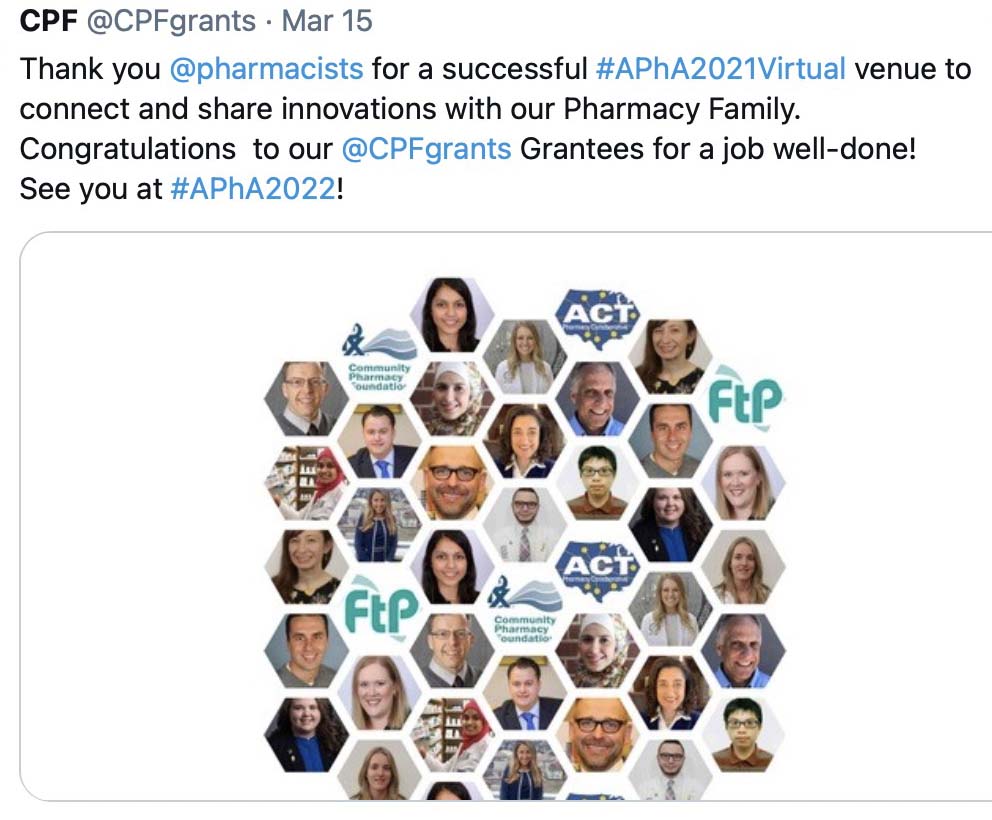 Implementing Pharmacist eCare Plans: Facilitators and Barriers to Success (Team IA)

Evaluation of Pharmacists' Perspectives on Using an Infographic to Increase Awareness of EQuIPP Pharmacy Performance Metrics (Team PA)

Evaluation of the Team Pennsylvania Flip the Pharmacy Performance Dashboard (Team PA)

Pennsylvania Flip the Pharmacy Practice Transformation Initiative: Pharmacy and Coach Support (Team PA)
Posters - Other CPF Grants
Addressing Social Determinants of Health in Community Pharmacy – Exploring New Clinical Models | Grant Details
Preliminary Evaluation of Healthcare Costs among Medicare Beneficiaries Enrolled in Medication Synchronization | Grant Details
Podium Presentations
Pharmacist eCare Plans: What They Are and Why They Matter | Grant Details
PharmTalk: Innovative Practices in Social Determinants of Health | Grant Details
Characteristics of Medicare Part D Beneficiaries' Receipt of Medication Synchronization Programs | Grant Details
Awardees - Fellows
APhA Foundation Incentive Grants
CPF Partner Grants
CPF has termed a new grant designation as 'Partner Grants'. These more recently funded grants have developed with greater applicant collaboration in the project conceptualization and implementation phases. The process started with the Flip the Pharmacy program that was approved in May 2019 and launched in October 2019. Serendipitously, or rather synergistically, the ACT Pharmacy Collaborative launched in July 2019 at the American Association of Colleges of Pharmacy (AACP) meeting and was instrumental in connecting academia and Community Pharmacy Enhanced Services Networks (CPESN) pharmacies to expand awareness and strengthen the partnership of the teams and participating pharmacies. More recently, CPF has funded collaborative grants with PQA for enhanced community pharmacy measure assessment and AACP to support a larger vaccine confidence project.

Flip the Pharmacy (FtP)



FtP Cohort 1 Inaugural Awardees! (Press)

Team of the Year: Team Pennsylvania

Pharmacy of the Year: Norland Avenue Pharmacy, Chambersburg, Pennsylvania

Technology Solutions Provider of the Year: PioneerRx

April Newsletter | Change Packages | Communications

Special thanks to FtP's Program Sponsor - Compliant Pharmacy Alliance and the numerous Team Sponsors and Program/Team Partners.


ACT Pharmacy Collaborative

Academia-CPESN Transformation (ACT) Pharmacy Collaborative is an operational learning and ACTing collaborative between 89 colleges/schools of pharmacy and clinically integrated networks of community-based pharmacies. If your college or school is not part of the 89 members, please consider formally joining by submitting a Dean's Statement of Commitment!

The Task Groups have formed and will begin work on the following topics.

Community Pharmacy Practice Curriculum Integration Framework

Community Pharmacy Experiential Learning Framework

Community Pharmacy Measure Concepts for Value-based Payment Programs

PQA and CPF continue to bring health care leaders together to prioritize community pharmacy quality measures for potential development. A series of interactive virtual summit meetings have been held and thus far have identified 8 proposed measure concepts (Blog). The final summit meeting is scheduled for mid-June 2021 and broad dissemination is planned for the fall. Grant Details


Vaccine Confidence Project



Pharmacy Contributions to Addressing COVID-19 Vaccine Confidence | Grant Details

This project will address vaccine hesitancy and build consumer confidence using CDC-tested messages adapted to the voice of the pharmacist. The profession- wide public awareness campaign (Pharmacists for Healthier Lives) will serve as the media platform for the confidence campaign which is also supported through a subcontract from APhA as part of a CDC vaccine messaging contract.
Social Snippets

Upcoming Deadlines and Events
CPF Grant Applications Deadline – May 12, 2021 at Midnight Pacific – Submission
CPF Board Meeting – May 25-27, 2021
PQA Annual Meeting 2021 – May 11-13, 2021 (Online) – Information
Flip the Pharmacy Round 3 Applications – June 2021 – Information
AACP Pharmacy Education 2021 – July 19-22, 2021 (Virtual) – Information
CPF Grant Applications Deadline – August 11, 2021 at Midnight Pacific – Submission
CPF Board Meeting – August 24-26, 2021