| | |
| --- | --- |
| Contents | |
| Announcements | American Pharmacists Month | NCPA 2020 | Flip the Pharmacy | ACT Pharmacy Collaborative |
| Grant Updates | Recently Awarded and Completed Grants | Grantee Updates |
| Social Snippets | Suicide Prevention -- #BeThere | Professional Value of Social Media |
| Deadlines & Events | NCPA Annual Convention | PQA Leadership Summit | ACT Collaborative Workshop | CPF Applications & Meetings |
American Pharmacists Month (#APhM2020)
October is American Pharmacists Month! It's a time to recognize pharmacists' contributions to health care and share the positive impact that happens every day in our communities. On October 12th, the profession recognized and celebrated Women Pharmacist Day. You can hear from CPF Board Member Linda Garrelts MacLean, RPh and CPF Grantee Kate Gainer, PharmD, Executive Vice President & CEO in a special Pharmacy Times Webcast, where they discussed the history and significance of women in the field.



National Community Pharmacists Association (NCPA) Annual Convention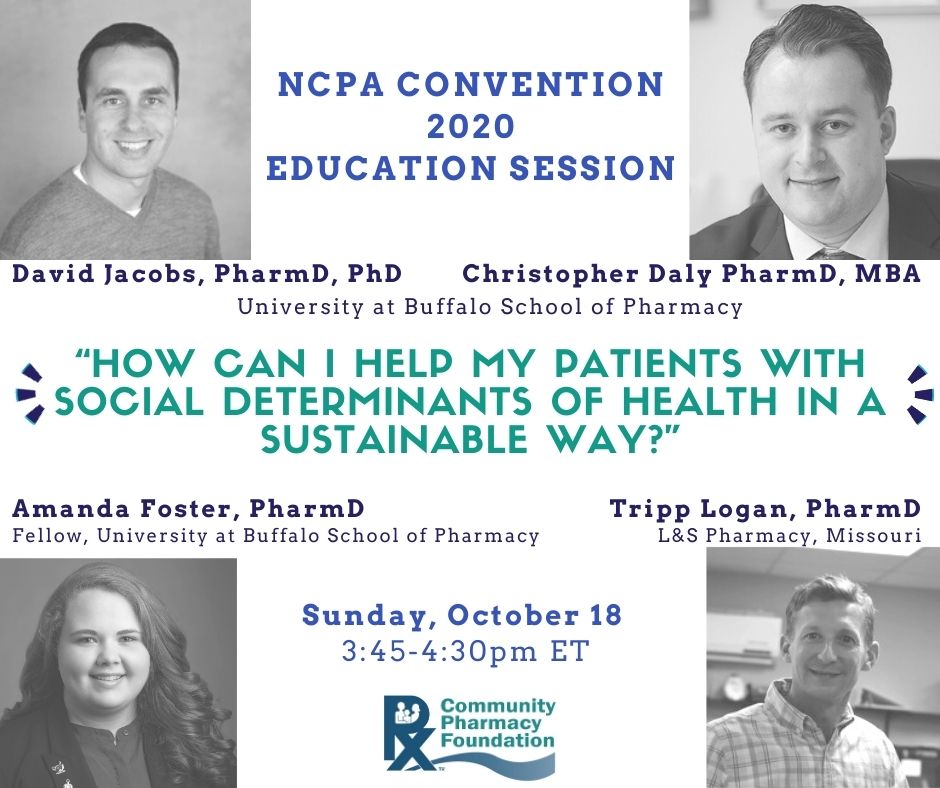 Virtual Meeting | October 18-19, 2020

Like the majority of the 2020 professional conferences, NCPA will also occur virtually and they will host their 2020 convention from October 18-19th. We at CPF really miss the in-person networking and educational sessions; however, we are excited that current grantees are able to showcase their collaborative work addressing social determinants of health and financial sustainability (see image to the right and links below for more information).

CPF Grant Details | NCPA Convention Programming

In addition, CPF is proud to be one of the many conference Sponsors and we will also be listed in the NCPA Meeting Virtual Exhibit showcasing the Flip the Pharmacy Program.


Flip the Pharmacy (FtP)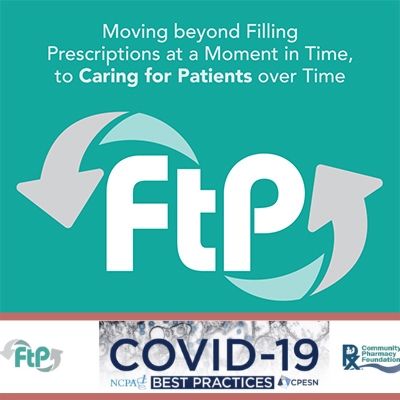 Flip the Pharmacy is a multi-year community pharmacy practice transformation program where CPF partnered with CPESN® USA to serve as the Coordinating Center for implementation. Round 1 (Cohort 1: October 2019 - September 2021) cohort is comprised of 28 teams across the country with over 200 coaches providing direct guidance to implement Change Packages in over 500 pharmacies. Round 2 Teams were announced on August 28, 2020 and the specific Cohort 2 participating pharmacies will be listed on the Flip the Pharmacy site in the near term.

Coaches are Key!
CPF has funded a grant to
Donnie Jordan, PharmD with the Leader Pharm
to distill some of his learnings and techniques for People Management, Conflict Management and Leadership Development as part of Flip the Pharmacy Year 2 coaching support. Coaches are the front line between new monthly
Change Package
content ideas and practice implementation at the pharmacy level. View the
first video
of a 4-part series that is now publicly available!
FtP Media Coverage
FtP Pharmacy Stories
FtP Newsletters -- October 2020 | All Newsletters

In his 'With Numbers and Quality Comes Power' October 2020 newsletter remarks, Randy McDonough reflects on the past year with Cohort 1 in the inaugural year of Flip the Pharmacy. He states that for the first time in his career, he is seeing a large aggregate of community-based pharmacies providing patient care services that are having an impact on patient outcomes and total cost of care. Payers are engaging with networks across the country—really for two main reasons—we positively impact patient care/outcomes and we have the numbers of pharmacies that provide coverage for a payer's beneficiaries—thus the value of a clinically integrated network. Community pharmacists are the solution and now we have the adequacy (coverage) needed for plans and the quality interventions needed desperately by our health care system. The power is shifting to our favor!


ACT Pharmacy Collaborative
The Academia-CPESN Transformation (ACT) Pharmacy Collaborative is an operational learning and ACTing collaborative between colleges/schools of pharmacy and clinically integrated networks of community-based pharmacies. The program is supported by a CPF grant and launched at the American Association of Colleges of Pharmacy (AACP) Annual Meeting in July 2019. The collaborative is entering the second year of Uniting, Mobilizing, and Amplifying colleges/schools of pharmacy and clinically integrated networks of community-based pharmacies. There are currently 89 colleges/schools involved and over 250 faculty nationwide.

Remote AACP/Academia-CPESN Transformation (ACT) Workshop
Join your colleagues virtually to network and develop new ways to support community pharmacy practice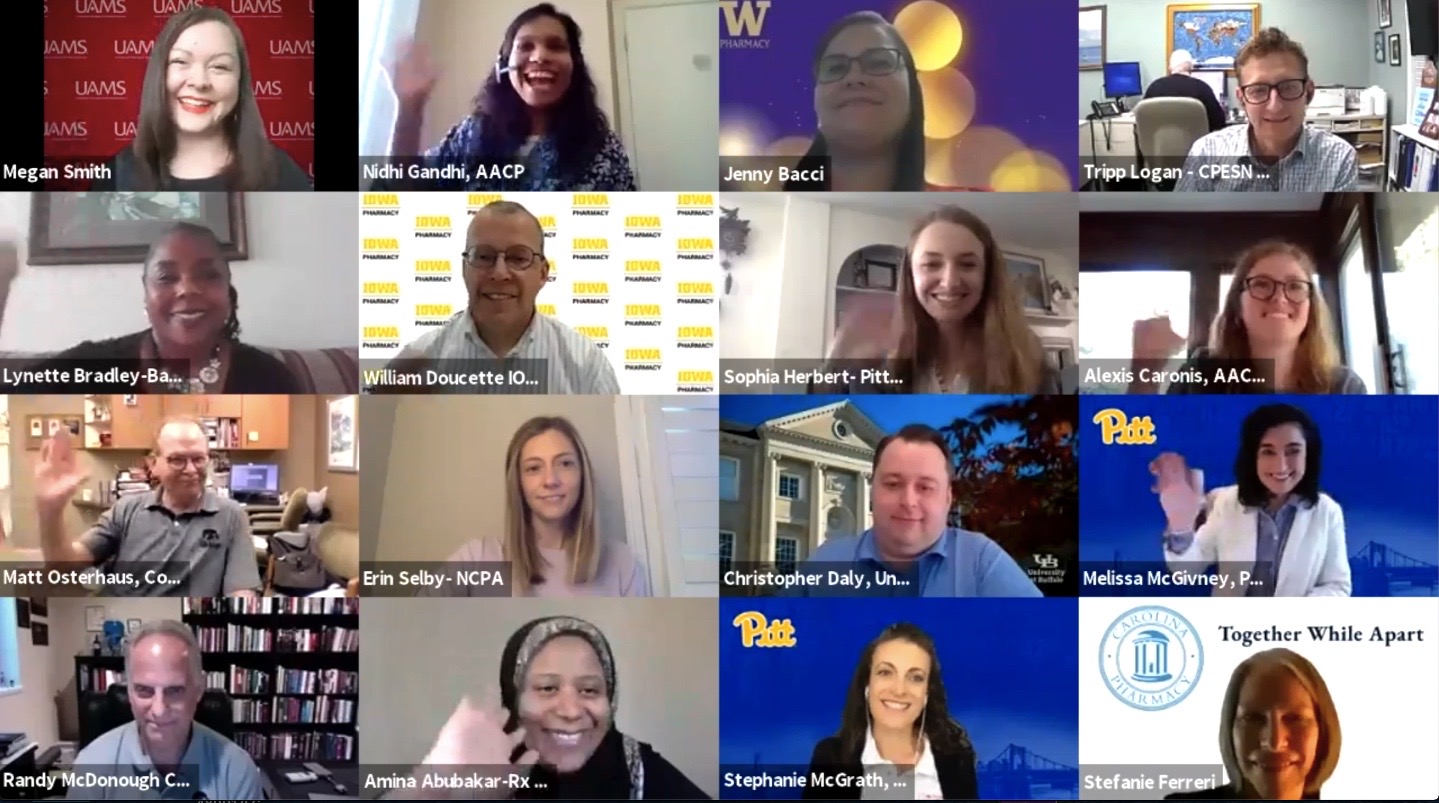 transformation at the Remote AACP/ACT Workshop, Nov. 12–13. Watch this energetic video to learn more!
This first-of-its-kind workshop will use a highly-interactive online format, assigning participants to networking groups to ensure attendees forge nationwide connections. Attendees will experience two keynote presentations, fireside chats with experts, a series of brief panel talks and continual small group discussions throughout each day. Faculty, staff, residents and fellows are invited to discuss topics ranging from scaling innovation through partnerships, student engagement and workforce transformation to pharmacist eCare plan documentation and expert-led pharmacy redesign efforts.

Members of the ACT Teams through the ACT Pharmacy Collaborative are especially encouraged to attend.
Register here
Recently Completed Grants
| Completed | Applicant | Category | Title | Status |
| --- | --- | --- | --- | --- |
2020
View Details
Stephanie Davis , PharmD
Goodrich Pharmacy Inc.

Therapeutics, Diseases & Populations

Pharmacogenomic-based optimization of medication regimens in patients using medications for mental health conditions
Resources: CPF Synopsis | Form | Article

Grant Complete
---
2020
View Details
Elizabeth Dragatsi , RPh BCPS
Dragatsi & Co.
Medication Management, Safety & Quality
Location: Maine

Grant Complete
---
2020
View Details
Randy McDonough , PharmD MS BCGP BCPS
Towncrest Pharmacy
Pharmacy Management & Ownership
Location: Iowa

Implementation of Continuous Medication Monitoring in a Cohort of Community Pharmacies
Resources: CPF Synopsis

Grant Complete
---
2020
View Details
Dave Dixon , PharmD BCPS BCACP CDE CLS
VCU School of Pharmacy Center for Pharmacy Practice Innovation
Therapeutics, Diseases & Populations
Location: Virginia

Grant Complete
---
2020
View Details
Tanvee Thakur , MS, BPharm, PhD
University of Wisconsin- Madison

Medication Management, Safety & Quality

Grant Complete
---
2020
View Details
Leticia Moczygemba , PharmD, PhD
University of Texas

Pharmacy Management & Ownership

Grant Complete
---
2020
View Details
Matthew Witry , PharmD, PhD
University of Iowa College of Pharmacy

Therapeutics, Diseases & Populations

Grant Complete
---
View more recently completed grants
Grantee Updates
Social Snippets


Upcoming Deadlines and Events
NCPA Annual Convention – October 18-19, 2020 (Virtual) – Information
CPF Grant Applications Deadline – November 4, 2020 at Midnight Pacific – Submission
PQA Leadership Summit – November 5, 2020 (Virtual) – Information
Community Pharmacy Practice Transformation Workshop – November 11-13, 2020 (Virtual) – Information
CPF Board Meeting – November 18-19, 2020